Have tried different games and nothing looked quite interesting? Bubble Shooter is the something you should give a little chance. Designed with present day gaming needs in mind, the game features a very addictive game play together with soothing music and stunning graphics, adding more charm to your leisure time.
If you may feel you a little easy at first, but as you move ahead, it would be no less than challenge for you to stay any longer, thanks to its sharp gameplay that keeps player's interest alive. There're over 200 stages coming with different difficulty levels.
The gameplay is very simple. All you need is to shoot the identical bubbles to release trapped sheep. Relaxing background music sounds super awesome. Graphics are also no less great, urging you to play more. The gameplay gets easier with bomb and fire bubbles that help you bust more bubbles.
Overall, the game is very addictive and comes with a fully immersive storyline. So, if you're looking for a game to kill your free time, Bubble Shooter could do the job.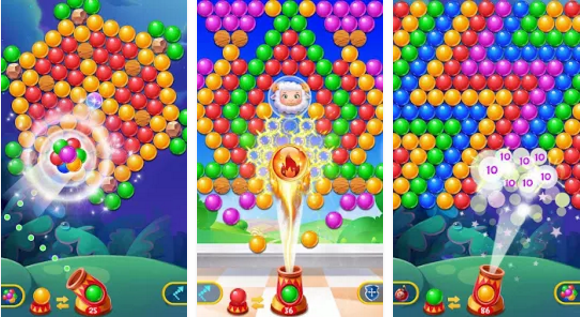 Here's a Google Play Store description of Bubble Shooter;
''Help, these little sheeps need to be rescued! They are trapped by bubbles. Shoot and match bubbles of the same to release them. Immerse yourself in incredibly interesting world.
Bubble Shooter New Features
– Around 200 levels of challenging puzzles and new ones coming out all the time
– Stunning and fascinating new maps
– Lots of amazing props (color bubble, fire bubble, bomb bubble, etc.)
– Fresh and bright bubble graphics
– Relaxing background music
– Easy and fun to play, hard to master''
Have something to say about Bubble Shooter? Please feel free to let us know your valuable feedbacks using the comment section below.