If you're one of those wanting to install an accurate, reliable weather forecast app, you're at the right place where you can find your favorite weather forecast app. Weather: Radar & Forecast is a new weather forecast app that can grab your interest due to its loads of interesting features.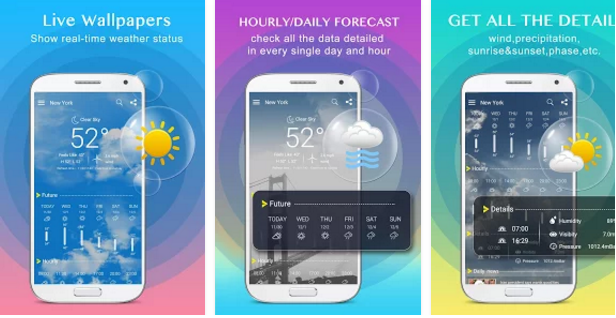 Designed with latest weather forecast needs and requirements in mind, the Weather app combines a support for over 20 languages largely understood and spoken in the world. From forecasting temperature and rain to humidity and wind force, the app does everything to bring complete weather information of a particular place, no matter where you're.
With this app, you stay up to date with the latest weather information so that you can make your appointments and other important decisions accordingly. Apart from weather information, the app also keeps you posted on the latest headline news and hottest stories from around the world.
Unlike other apps that do nothing but waste your time and money with fake weather information, the Weather app is something you can really count on without any doubt. Its Live Wallpaper feature keeps you informed of the latest, accurate weather conditions through a range of dynamic wallpapers.
The Daily/Hourly Forecast feature provides you with complete weather information such as lowest/highest temperature, wind, precipitation and more. You can have a look at these data in a detailed way every single hour. You can even track and add your favorite destinations and cities for a comprehensive weather forecast. Overall, the app is an ideal choice from all aspects and is really worth downloading.
Have something to say about Weather: Radar & Forecast? Please feel free to share your valuable thoughts with us in the comment box below. We always love hearing back from you and value your feedbacks.