Modern bloggers need tools to create and publish content quickly and easily, regardless of their location.
Fortunately, there's a plethora of mobile apps available that cater to bloggers' needs, making it easier than ever to create, edit, and manage your blog content right from your smartphone.
In this guide, we'll explore some of the top apps for blogging that empower you to stay productive and connected wherever you are.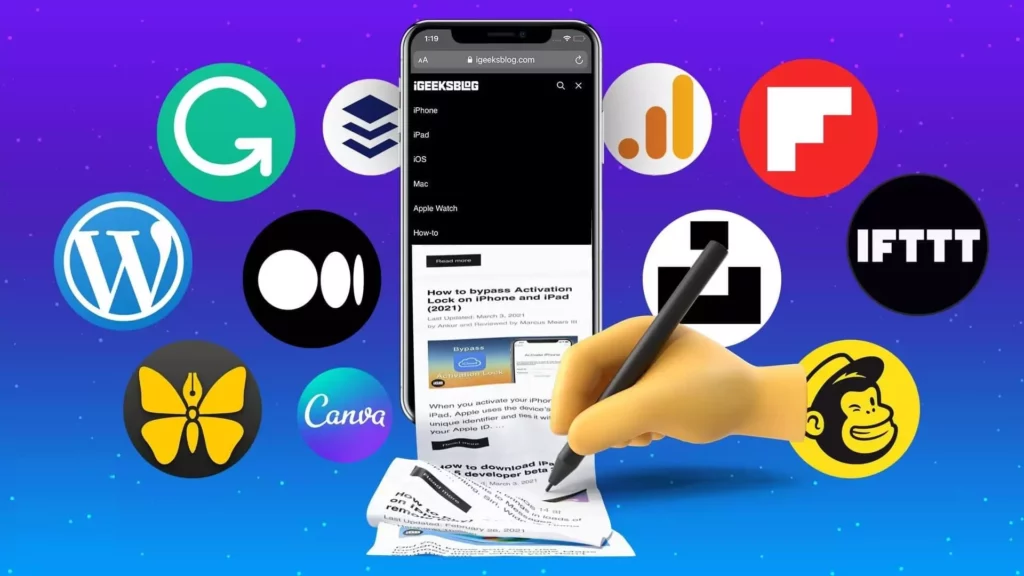 Content
1. WordPress
WordPress is one of the giants in the blogging world, and it's no surprise that it offers a user-friendly mobile app. With the WordPress app, you can effortlessly create and edit posts, manage comments, and keep an eye on your site's statistics, all within the palm of your hand.
2. Blogger
Another popular blogging platform, Blogger, also offers a handy mobile app. This app lets you craft and edit posts, handle comments, and monitor your blog's performance metrics, all from your mobile device.
3. Hootsuite
For bloggers who maintain an active presence on social media, Hootsuite is a lifesaver. This social media management app allows you to manage multiple social accounts from one central hub. You can schedule posts, track your social media analytics, and monitor your online presence seamlessly.
4. Evernote
Ideas can strike anytime, and Evernote ensures you capture them all. This versatile note-taking app lets you jot down thoughts, capture images, and create to-do lists. You can even set reminders to keep you organized and on track.
5. Google Docs
Google Docs is a cloud-based word-processing app that simplifies content creation. Whether you're drafting blog posts, collaborating with others, or simply editing on the go, this app has you covered. Your documents are accessible from anywhere, ensuring you're always connected to your work.
6. Trello
Keeping track of tasks and projects is crucial for bloggers. Trello, a project management app, allows you to organize your work effectively. You can create boards, lists, and cards to manage your tasks and deadlines effortlessly.
7. Canva
Graphics play a vital role in blogging, and Canva is the perfect companion for creating eye-catching visuals. With vast templates and customization options, you can design stunning graphics for your blog and social media accounts in a snap.
8. Google Analytics
Monitoring your blog's performance is essential for growth. Google Analytics offers a mobile app that enables you to track your website's traffic and user behavior. Stay informed about your site's statistics and track your progress.
Conclusion
Blogging isn't confined to a desktop anymore; these apps allow you to manage your blog efficiently while on the move. Whether you're a WordPress enthusiast, a Blogger aficionado, or a social media maven, there's an app to suit your needs.
The right combination of these tools can help you stay organized, connected, and creative as you continue to engage your readers with compelling content. So, explore your options, find the apps that resonate with your workflow, and watch your blog thrive.
FAQs
Are these apps available for both Android and iOS devices?
Yes, most of the mentioned apps are available for both Android and iOS platforms, making them accessible to a wide range of users.
Are these apps free to use or require a subscription?
Many of these apps offer free versions with basic features, but they often have premium or subscription-based plans that provide access to advanced functionalities. The availability of free and paid features varies from app to app, so exploring their specific pricing structures is a good idea.