The term DTH stands for Direct-To-Home television. It is very popular and affordable source in India for quality picture viewing. It works on satellites by receiving programs with a personal dish antenna in every individual house. The different parts of a DTH network include broadcasting center, satellites, encoders, multiplexers, modulators and DTH receivers.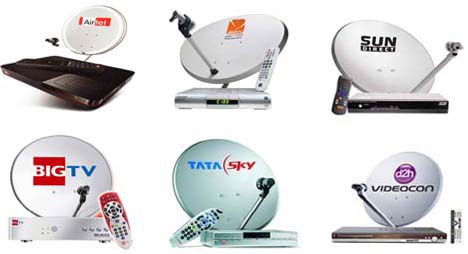 By using DTH there is no need of a local cable operator. It works by putting the broadcaster directly in touch with the consumers. The cable operators distribute these to individual houses because they can only receive the satellite programs. It is advisable to choose the best DTH Service Provider in India for your house. There is need of a small dish antenna or set-top boxes to decode and view numerous channels.
DTH can also reach the remotest or rural areas, unlike the cable operators that include wires or cables. A person can use the same connection for many TVs. The top 5 DTH service providers are listed in this article for your convenience. 
Tata Sky was founded in 2004 and is headquartered in Mumbai. The main features of Tata Sky are:
It offer true HD channels,

It provides low-cost DVR

It is mobile and internet ready etc.
Tata Sky currently offers about 268 SD channels, 24 HD channels, and 1 3D VOD channel. It is a reputed company and is packed with best customer service among DTH companies. The company uses MPEG-2 and MPEG-4 digital compression technology. For transmitting it uses INSAT 4A satellite. 
Sun Direct is yet another famous Indian broadcast satellite service provider or DTH. It was founded in 2007 and headquartered at Chennai. The main features of Sun Direct are 
It has a direct broadcast satellite.

It is a pay television

The user can pay-per-view

It provides true HD quality channels etc.
 Sun direct is considered amongst the first to offer HD programming service. They have some regional channels in HD as well. Sun Direct offers 7 Bengali, 2 Odia, 4 North -Eastern, 7 Marathi, 5 Punjabi, 3 Gujarati, 2 Bhojpuri, 3 Urdu, and 40 + Hindi Channels.
Dish TV is a very famous DTH service provider with over 13 million customers at present. This is Asia's largest satellite television provider at this time. It came into existence in 2004 by R. C. Venkatesh. It offers 400+ channels and service to its customer. The main features of Dish TV are
It provides true HD quality channels,

It gives low-cost DVR, 

It is mobile and internet ready etc.
Dish TV is one among the first to launched DTH services in India and provides a large number of channels. It can be accessed in a car also.
Reliance is one of the best DTH service provider that features HD Channels, DVR at low cost, is mobile and internet ready all time etc. It is the first DTH provider in India to broadcast Live FIFA World Cup 2014. Tata Sky has a subscriber base of over 14 million and above. The company has also got the first Indian direct-to-home (DTH) service provider to be awarded the ISO 27001:2005 award. 
Airtel is another best DTH service provider that offers true HD quality channels. They assure best quality service to its customers. It was founded in 2008 and is headquartered at Mumbai, Maharashtra, India. This direct-broadcast satellite service provider uses MPEG-4 digital compression with DVB-S2 technology, transmitting using the satellite SES-7 108.2°E. Airtel TV offers a total of 394 Channels and Services including 19 HD channels. It gets total subscriber base of about 8.8 million users. 
In the end, your choice should be based on what you actually care about. If you want the most technically advanced and accurate service along with speedy customer care, then go with Airtel.