As the largest and most prestigious club in the Midlands, Dallas Burston holds a strong reputation in the polo world- but that isn't all the Club has to offer. 16 meeting and event rooms, 600 acres of outdoor space and the ability to accommodate over 10,000 guests across the site makes Dallas Burston Polo Club the only venue you should consider for your next conference or event.
Create a lasting impression by holding your conference or event in one of the most beautiful venues in Warwickshire, and give your delegates a refreshing new space in which to test ideas and promote strong work relationships, by taking advantage of the Club's ample, modern meeting spaces. We are proud to offer rooms ranging from 784 square metres to just 27, which can cater events such as charity galas, product launches, weddings, corporate dinners or even breakfast seminars. We are confident that, whatever your event needs, our dedicated team of  events co-ordinators will be able to help you.
Professional. Modern. Unforgettable. With space for over 3000 guests, the IXL Events Centre is the largest and most versatile venue on site.
Arrival
Excellent access from the M40, and plentiful complimentary parking, ensures that your guests will arrive relaxed and ready to participate in your event. Welcome drinks or refreshment breaks can be enjoyed in one of our 4 lounges, featuring fully licensed (and in some cases portable) bars. Whether your party would prefer the vibrance of the Horizon Lounge or the sophisticated ambience of the Champagne lounge, appreciate panoramic views of the Club's impressive polo pitches. If there's a match on, try not to get too distracted!
The Main Event
The grand King's Court room accommodates 800 guests theatre-style or 750 banquet, and the large double doors make it the perfect place to host your next car launch or gala dinner. Back-of-house facilities features kitchens, staff changing and dressing rooms, all available to use should you wish. King's Court is fully equipped with 60" plasma televisions, perfect for presentations, and the latest NEXO and HD audio visual equipment to ensure that, no matter how large the audience, everyone will benefit from speeches or conference talks.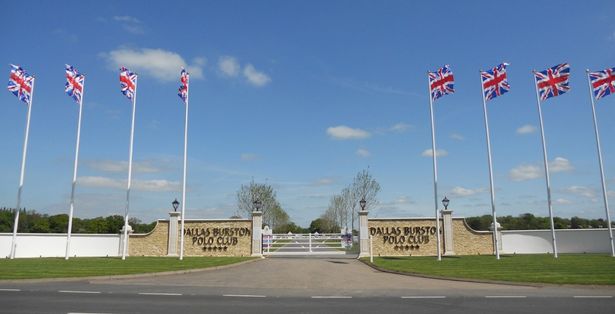 No event is too small.
During your time with us, guests may like to enjoy breaks, or divide into focus groups. The Club is proud to offer 8 exclusive booths in King's Court, as well as professional, private rooms across the site; ideal for smaller presentations, brainstorming activities or informal meetings.
You might assume Dallas Burston only caters for large events- in reality, we value clients of every size. Perhaps your team is experiencing a slump- why not take them out of the office for a day, and allow the fresh new scenery of the Club to boost creativity and innovation? We offer clean, professional meeting rooms across the site, for up to 12 guests, and are happy to provide you with flipboards, whiteboards, markers and projectors. Work hard, and relax during lunch on-site; either in the rooms, or at our on-site bar and lounge, the Millstone Hare, which offers delicious, traditional food. Additionally, if you'd prefer a working lunch, the Hare also offers secluded dining areas  for up to 8 guests.