Every company owner is well aware of the problems that often arise for businesses and the expenses they have to incur. The cost of renting warehouses and the need to store huge quantities of goods in them are nothing short of astonishing.
However, you can make good money without having to think about warehouses and organization of deliveries.
In this article, we will talk to you about what dropshipping is.
What are the principles of business?
The classic scheme of many stores is to buy a certain amount of goods and store them in warehouses, and when the buyer buys these goods — ship goods to them. With this scheme, the seller incurs many financial losses, particularly in terms of the need to rent warehouses and purchase goods.
The dropshipping model makes it possible for sellers not to think about inventory, and when the buyer makes a purchase, they will receive his goods not from the seller, but directly from the supplier.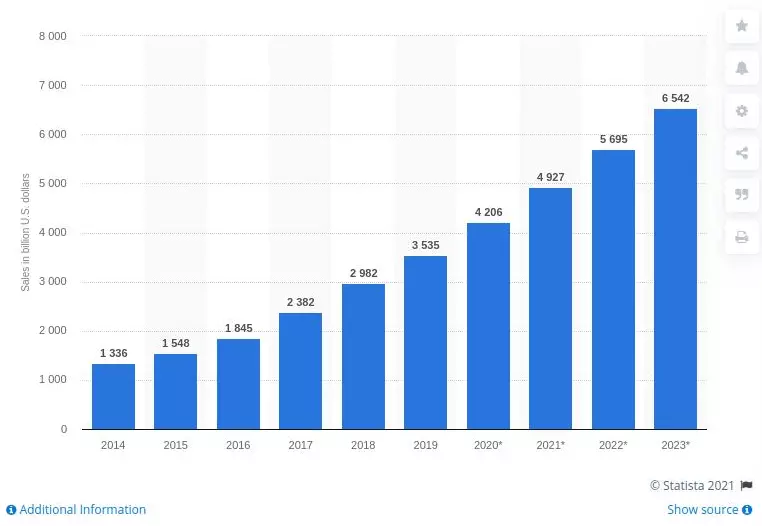 According to Statista, the US ecommerce market is constantly growing so no surprise that dropshipping business is still value.
In order to start selling merchandise through the dropshipping system, you don't even have to have a long conversation with manufacturers and negotiate anything.
Just register an account on the supplier's website. This will be enough, no complicated actions need to be done, as well as wasting time. Many sites send orders automatically.
Despite the fact that the shipment is carried out by the manufacturer, you will also be responsible to customers for the high-quality and uninterrupted operation of the site, for the level of service. In addition, you need to try to select those products that will be in demand right now.
Before you start this business, you will need to consider all the risks and look at the long term. There is no question of instant enrichment here, so it's best not to fool yourself and set realistic expectations in advance.
In any case, you will have to invest a lot of at least one resource – time or money. It is best to focus on the investment of time, because if the money your business will not pay off, you will not gain anything, whereas having invested time you can gain invaluable experience and knowledge, learn to understand the projects which are worth your attention and which are not worth spending time on, learn the market and customers, and be able to pump the skills that you will need throughout your life, if you plan to do business.
Try to figure out your business yourself
You can hire expensive consultants and managers, but if you do that you become dependent on them to make important decisions, and that's not a good option. Of course, you shouldn't do without employees at all, but first of all you should try to figure everything out by yourself and become the main power center of your company.
Start actively researching the market
Regardless of whether you open a retail outlet or choose to dropshipping, you need to research your competitors, potential customers, major market trends, and so on.
A few simple steps and a popular search engine from Google are enough to find your competitors in the results in a couple of seconds. Enter the product you offer in the search box. The first five companies at the very top of the list can be considered your competitors. If you want to investigate the level of online activity of companies competing with you, use some spyware, such as Similarweb. You can also sign up for newsletters from your competitors and be the first to know about new promotions and interesting products, and maybe even borrow some promotions from them. And why not.
Choose your suppliers carefully
You should choose your suppliers particularly carefully. As we said above, you won't have to provide long negotiations, just choose a site like Oberlo and you can easily add the products you need from a huge list. The manufacturers will take care of packaging, shipping, and inventory management, and you won't have to worry about that. This, along with a wide selection of products and low initial costs, is one of the important advantages of dropshipping.
Create your own online store
Here you also have some interesting options, because you do not need to order the creation of an expensive online store from specialized companies, it is enough to use special platforms like Shopify. The platform also has a lot of payment gateway integrations to process money with ease.
Thanks to special website builders, you can create your own online store, even without any programming skills, and without any understanding of website design.
The bottom line
Having done these steps, you will already have done quite a lot for the success of your business. But do not relax, because this is just the beginning. In the future you will need to register a company and choose the structure of your business, learn how to effectively manage the finances of the firm or entrust it to professionals, as well as promote your store on the Internet, creating useful content.
Take dropshipping seriously, and you will be able to create a source of great income without a large investment.