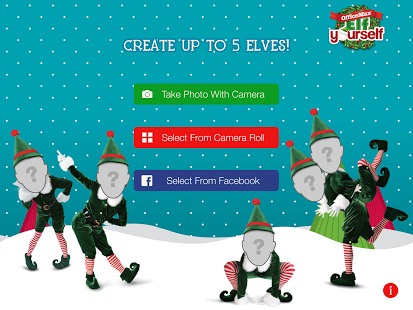 For Android crazies, here is something new has been entered in the world of entertainment. Elf Yourself by Officemax app has been launched to let Android users enjoy their time maximum with their little self-making elf videos.
What Is In It?
The dances are now available to download and annual holiday tradition will permit you to elf yourself to become the star of a tailored video featuring your photos on holiday dancing elves. To get started, you just need to upload 5 photos of you, your friends, family or more from your camera or photo gallery. Once, you are done with all this, choose a dance theme and app will engender a custom ElfYourself video that would be shareable via email or post onto Facebook.
You might be inappropriate, funny or bad elf or might be simple and plain, it's all depend on what face you will pull the video dances. Good news for Android fans is this app is free to download and install with in-app purchase. You won't need to pay even a single penny to star in your own personalized video as holiday dancing elves. For having fun and fun and more laughter, this is just the right app to move with.
Having five funny characters will definitely add to your fun and gaming experience. Just adding the photos will make this app to create an automatic custom elf yourself video while giving you a choice to select a theme of your desire. Created video is not only for self-enjoyment but you can share it with your fans and family members easily via Facebook or if you want it to email, you can do so.